Dear visitor,

We are Marijana and Damir, the Deak family. We are both 38 years old, and we live in the beautiful Neretva River Valley, in a small town of Opuzen (only 10 km from Klek).


This is where the sweet-smelling mountains covered with Mediterranean vegetation, the mysterious marshland abundant in graceful lotus flowers, home to over 300 bird species, and the crystal blue sea, which entices you to visit its small hidden coves, are joined together. The inhabitants of our town live mostly of agriculture, fishing, and tourism.

Along with all kinds of vegetables that you can imagine growing in one place, varioustypes of fruit are also grown in the Valley. The Neretva mandarin is the highest rated fruit of this area. The whole Neretva River Valley is filled with mandarin orchards. With its quality, the Neretva mandarin has acquired a very important place at the European market. We have also contributed to the success of this agricultural product.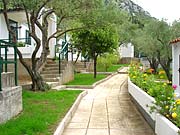 Agriculture proved to be an interesting and successful business in our region.
Recently, tourism has gained importance as well, so we decided to follow the new trend. We bought 27 apartments in the center of the Klek tourist complex. We hope that our apartments will offer pleasant accommodation to our guests.

Those who have had a chance to visit our region, or at least to stop here for a moment, must have sensed and been impressed by the sweet smells and sounds, the beauty, and the calmness of our landscape regardless of the season of the year. It is justly called Heaven on Earth .

So much more could be said about the beautiful landscape of this area. If you visit us, you will be able to experience it firsthand. All we can do is try to meet your expectations, and make your stay as beautiful as possible.

Family Deak